After a short look into the media you might get the impression that banks may become obsolete and Google or Facebook will replace them soon. Alongside this, cash accounting in different currencies won't be needed any more, as payment transactions will be done in bitcoin.
But is this really the future? On the one hand, new players have been entering the retail market for many years – Paypal is a very prominent and successful example. And with mobile payments gaining rapid momentum - not only in emerging markets due to lack of existing banking networks but now in Europe and the Americas as well - the competition for banks and the card industry is getting harder. On the other hand, incumbent market infrastructure providers that have expanded their offering for corporates like global operator SWIFT are moving towards more successful end-to-end efficiency.
Personally, I believe in the diversity of solutions. I agree that there is already hard competition for banks in the retail payment market and card companies need more innovation if they want to keep their market share. With personal finance, robotic wealth planners and independent investment platforms, people might become even more bank agnostic. Retail banking and wealth management services may no longer be a privilege that only banks can offer, but when it comes down to delivering a wide range of financial products and solutions while supporting corporates with their global businesses and complying with the growing list of regulations, the banking industry is still in the game and most probably will remain the champion for the near future.
In addition to this, most of us underestimate the already completed and ongoing investments in the renewal of the market infrastructure and the technological change. An example of this is clearly SEPA. The first big step along the SEPA path has been completed with the so called "SEPA End-Date" for domestic formats. It caused some hassle, but in the end, it worked. Although, the voyage is not finished yet and the next milestones are coming.

Source: Europe Central Bank
Even if the future of the Euro is not as certain as some years ago, the innovations can be used for any currency or market with many currencies as well. One of the big changes was the use of ISO 20022 messages and elimination of the differences between domestic and cross-border transactions. Nowadays, more and more markets and banking segments are adopting ISO 20022. If you discuss message exchange with a funds provider, you will realise that ISO 20022 messages are a standard today and that questions are rising why other segments are still using old formats.
For Fides, as a Swiss based company, the upcoming changes in the Swiss payment landscape are central as well. Currently, all banks in Switzerland are running one or several projects dealing with the migration of local payments clearing in a new platform, using ISO 20022 as a standard. Therefore, clients will be affected as well, as the format and content for payments and account reports will become ISO 20022 message types. In contrast to the SEPA migration, there will be no end date for client to bank communication in Switzerland.
There is no immediate need to switch from the current DTA-format or MT 940/942 reporting. Accordingly, most of the banks are not ready yet, as the main focus lies on the migration of the market infrastructure now. And there is no big bang planned, but several waves for banks in order to ensure a stable system during the migration. The full benefits of ISO 20022 will be in effect from 2018, once the migration is finished. It is believed that the software vendors and corporates will switch as well, not because they have to, but because of the new opportunities and innovation that awaits them.
As a side effect of the changes in the Swiss payment landscape, the Swiss financial industry will adapt the open Electronic Banking Internet Communication Standard (EBICS) replacing the currently used, non-standardised and bank proprietary communication protocols. EBICS is another example of an implementation, which is not something totally new, disruptive and "cool". But, it works so well for banks in Germany, France, Austria and other parts of Europe that a disruptive solution is not in focus. A simple but effective, proven technology with an open standard, delivers more innovation as often expressed by many Fintech experts.
A working group with members of the market infrastructure and the main players in the Swiss payment industry drafted a Swiss implementation. Even if you fear the terms "working groups" and "implementation guidelines" because of another technical overkill, the beauty – and the success – of EBICS lies in the simplicity and the focus on one challenge, the secure communication, that will be solved.
Once again, there will be no hard deadline, but with the growing EBICS offering and new options, the time for a switch will come. EBICS will enable more banks and clients to establish a secure exchange of payment instructions, reports and e-documents. Direct connections were and will be the ideal solution for bulk payments and depending on the offering of the bank, urgent treasury payments can also be delivered. EBICS is often used in combination with SWIFT for corporates as a complimentary option to directly send payments from or deliver data to ERPs, TMS and even cloud solutions. It is something that has already become a reality in the corporate world because it is easy to connect.
I think efficiency, reliability and security are the main drivers in the relationship between banks and their corporate clients. This will be reflected in the technology used and most of the time, proven concepts, open standards and smart implementation are not that exciting. But they are what a bank relationship should be: solid and yes, boring.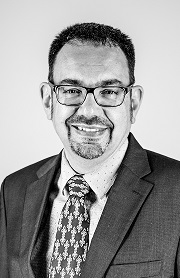 Martin Walder is the head of product & quality management and has been employed at Fides since March 2012. Prior to this, he worked at Credit Suisse for 12 years as a product manager and project manager in online banking. Among other things, he oversaw projects related to online payment transactions and implemented various platform migrations. Most recently, he led platform & quality management and was responsible for the operational fraud prevention measures in online banking. Within Fides he is responsible for all client related offerings regarding the functional and business related features.